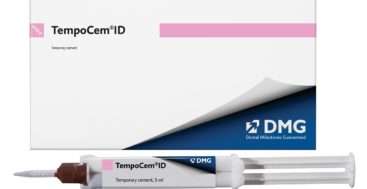 The search for temporary cements has been a long one over the last decade as my practice has moved away from porcelain fused to metal full coverage as the go to indirect restoration. The difference in mechanical retention, aesthetics and final placement protocols places different demands on our temporary cements. There are quite a number of criteria we want out of a temporary cement, and finding it all in one product was the challenge.
Great Retention
Easy to Remove
Easy to Clean the Prep
Eugenol Free
Easy to Clean Excess During Cementation
Esthetic/Translucent
No Sensitivity
Doesn't grow black Scuz
Having played with many of the temporary cements on the market there are many that meet most of the criteria, but I hadn't gotten everything I wanted until I started to use TempoCem ID from DMG America. It is a resin based temporary cement that actually changes from slightly opaque to translucent when you move through the curing process. The initial opacity that remains even at the gel phase makes cleaning away the excess very easy. Once all the excess has been cleaned off a final cure takes you to fantastic retention and a beautifully esthetic cement. The chemistry allows you to place the final restoration without worry of incompatibility with adhesive or traditional cement systems.
Whether for full or partial coverage TempoCem ID has become the temporary cement of preference in my office.