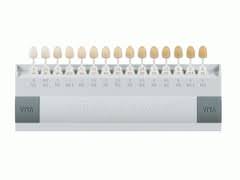 One of the challenges of practice is working with patients who have a high caries rate. It can be frustrating for both the patient and us as we add new things to their home care regimen in hopes that at their next recall visit we will not be recommending additional treatment. I have a variety of patients in my practice that are high risk for caries including adolescents, elderly patients, and patients with reduced salivary flow caused by a variety of reasons. My first line of defense has been to work with patients to improve their ability to remove the bacteria. Brushing, flossing, and interproximal cleaning devices are a common conversation. Next in line is to add non-mechanical aids, these include prescription strength toothpastes, fluoride varnish and rinses. Sometimes all of these things don't add up to a real solution, and often patients don't implement everything we discuss.
One adjunct to caries control that patients seem to easily implement is whitening their teeth with custom trays and Carbamide Peroxide. There is good research that carbamide peroxide is an effective adjunct for caries control. The process works through several mechanisms. One of the primary changes int he oral environment is the elevation of the salivary ph. This occurs quickly, within five minutes of having the tray in, and stays elevated the entire time the trays are in. Carbamide Peroxide has also been shown to kill one of the two bacteria that cause caries. Lastly, one of the main issues in this group of patients can be plaque removal, and the whitening process effectively removes the salivary film and plaque layer off of the teeth.
When being used as an adjunct to caries control one of the things that we do in our office is to make sure that the custom tray extends 1-2mm beyond the gingival crest at the neck of each tooth. This extension acts to seal the tray and keep the gel from leaking out of the tray, as well as making sure that the carbamide peroxide is in contact with the sulcular fluid. Due to this tray extension onto the tissue and wanting to avoid ginigval irritation, we recommend a low percentage of active ingredient. The research that supports Carbamide Peroxide as an adjunct to home care was done with 10% active ingredient. The whitening effects at low doses will also be moderated over a longer period of time.