Composite Instruments with disposable tips eliminate the issues of cleaning off cured composite and avoiding scratching or damage to the surface. Posterior composite placement is very different than in the anterior. We use the term condensation, although it really creates the wrong image and behavior. Composite is really not condensed as much as it is placed or pushed, or guided into the features of the cavity preparation. If we condense and the tip of the instrument is pushed too deeply into the composite we risk a phenomenon called suck back, where we lift the material and introduce a void internally. The instrument should be on the surface of the composite and used to push the material ahead of the instrument. Using a larger instrument versus a smaller tipped instrument is helpful to avoid this issue, but for a class two box it must fit into the top of the prep.
I use two different instruments with disposable tips to "condense" or "place" composite. The first is the OptraSculpt instrument from Ivoclar Vivadent.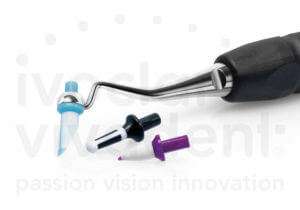 The tips that look like a condensing instrument work well for the base of a class two box. The "C Shape" instrument has been surprisingly effective. At first I will admit skepticism when I saw it, but curiosity got the best of me and I have tried it. It does an incredible job of forcing composite into the prep without voids, it also helps remove excess composite for smooth marginal transitions with less bulk removal after curing.