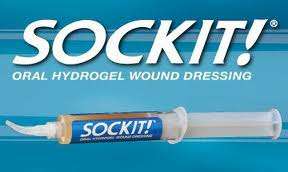 Just before we closed the office for the holiday last week I had a patient come in suffering from a dry socket. In the name of full disclosure I must confess I haven't done an extraction in over a decade. My patients however, do have them done and some experience the sequelae of a dry socket. The tooth had been extracted a few days earlier, and the specialist had packed the dry socket twice before leaving to see family for Thanksgiving. The patient reported the packing had relieved the discomfort, but the relief only lasted about twenty-four hours before the pain returned.
I had several issues to resolve; first was treating the dry socket and then resolving the patient's discomfort. My assistant began to frantically search the drawer where we keep the surgical supplies, to discover everything we had was dried out, expired and too old to use. The next challenge would be how to help the patient over the holiday as he was headed off to see family, or figure out a way he could help himself. That's when I wondered about using SOCKIT! to treat the extraction site. SOCKIT! is an all natural wound dressing that I dispense to patients after gingival surgery or for mouth sores.  Sure enough when I checked on the web it is recommended for dry sockets. I removed the old packet and filled the extraction site with the SOCKIT!. In less than a minute the patient's face relaxed and he was thanking me, as he felt so much better.
With a tube of SOCKIT!, a quick demonstration on how to retreat the extraction site himself and my cell number just in case he headed off for his trip.  I followed up with him a few days later.  He was thrilled to tell me whenever the pain started to come back (about every 6-8 hours the first day or so) he would apply the gel and feel better instantly, and it looked to him like the extraction site was healing up.  One of the things I have always wondered about packing a dry socket is whether it delays closure of the site as we place packing material every twenty-four hours. I now have a great tool in my arsenal that gives patients the ability to manage their discomfort, eliminates the inconvenience of coming to the office everyday and encourages healing.