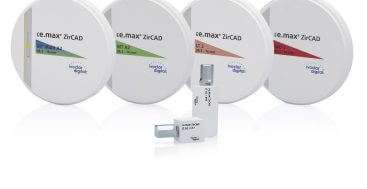 Most dentists think of zirconia as the highest strength, all-ceramic material that they can use to balance esthetics and durability. It is the material we go to for patients with occlusal risk, for second molars at higher risk of fracture and for all-ceramic bridges. When you start to discuss zirconia you will hear flexural strengths of 900-1,400 mPa thrown around. While this is the flexural strength of a certain category of zirconia, you might not be aware there are different types. Dentists have demanded manufacturers make versions that are more aesthetic, and in doing so we have sacrificed some of its strength and durability. So you should be sure you understand which type you are getting from your lab.
The general rule with zirconia is that the prettier it is, the weaker it is; conversely the more opaque it is, the stronger it is. For example, the white opaque zirconia visible as the substructure on the underside of a bridge is the highest strength and may have flexural strengths of 1,000-1,400 mPa. The other end of the spectrum is the highly aesthetic materials we refer to as "translucent", "crystal" or "aesthetic" zirconia and they may have flexural strength numbers of 500-700 mPa. There is also a category of material with strengths that are in the middle of this range.
Talk to your lab and ask them what types of zirconia they can provide, and their specific strengths. There are many manufacturers and brands and you should be familiar with what your lab offers. Ask them how you should specify which zirconia to use for a given case. This of course will be determined by the esthetic and functional demands of the individual situation. Some labs can note your preferences in their computer, so they know you always want the middle strength material for second molars, the highest strength for bridges and the prettiest material for premolars as an example.