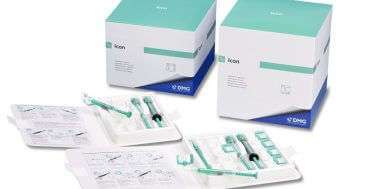 White spot lesions can be very frustrating for us as well as our patients. Over the years I have tried many solutions with marginal results and predictability. This year I have ben using a new product from DMG America called ICON and have been impressed with the results. ICON is a translucent resin infiltrate. The process is easy for patients. It does not require anesthesia and is highly successful at removing the white and some brown spot lesions without tooth preparation.
Under isolation, the process begins with a product specific etching gel, and 2-4 rounds of etching that last for minutes. In between each round of etching you use a drying agent that shows you what the appearance of the teeth will be after you apply the resin. If the visible white or brown spots is still there you can do an additional round of etching. Once you are comfortable with what the end result will look like you apply the resin infiltrate and light cure it after application.
Being able to offer my patients an esthetic and conservative solution is exciting. I no longer hesitate to mention the appearance of their anterior teeth in fear that the solutions are restorative and will ultimately then mean lifelong replacement of those restorations.