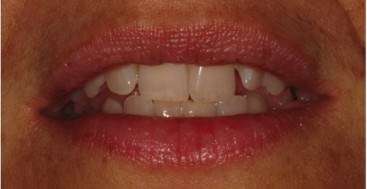 [/caption]
Often when we alter the length and position of anterior teeth we inadvertently make changes to the patient's phonetics. One of these sounds is the ability to say "s". Patients produce the "s" sound by moving air between a small space created between upper and lower anterior teeth. There are three ways to produce this sound, with the teeth end to end, with the lower incisal edges lingual to the upper anteriors, or with the lower incisal edges labial to the upper incisors. Regardless of the relative position of the upper and lower anterior teeth, it is the size of the space that must be managed to correct the "s" sound.
Most commonly we reduce the amount of space between the incisors, and the patient develops a lisp. My favorite way to correct this is to place a piece of articulating paper between the upper and lower anteriors and have the patient count from sixty to seventy. As they count when the incisors come too close together it creates a mark. Once we have the teeth marked using a rubber wheel lightly adjust the marks to create more space between the teeth. If the marks are on the incisal edge of the upper anterior teeth, do not adjust them and create the space on the lower anterior teeth. Have the patient check their speech sounds, and if they still have a lisp, mark and adjust again until it has been eliminated.
When adjusting the phonetics if we are reducing the area of the lower anterior teeth that are also the patients intercuspal position stops, we may lighten or eliminate the anterior tooth contacts. If this happens and anterior coupling is part of the occlusal design you created it can be reestablished by altering the lingual of the upper incisors.