I had the pleasure today of seeing a young woman whose chief concern was short square teeth. Orthodontic treatment was recently completed and she is routinely wearing her retainers. The clinical exam revealed no wear on the maxillary incisor teeth. The sulcus depths on the facial range from 4mm to 6mm and the CEJ can not be found with an explorer in the sulcus. Radiographs of the anterior teeth show bone levels are in the correct position relative to the CEJ. The periodontal exam revealed very little plaque and no bleeding on probing. My diagnosis after reviewing all of these exam findings is altered passive eruption. In my practice, altered passive eruption, is a very common diagnosis. This clinical scenario is also easy to treat with fabulous esthetic results for the patient.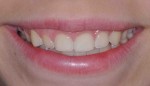 Eruption occurs in two phases, active and passive. Active eruption is the movement of the tooth down out of the alveolar bone into position on the occlusal/incisal plane. Passive eruption is the exposure of the crown of the tooth due ot apical migration of the gingival tissues. The migration of the gingival tissues happens in four stages.
Stage 1, the teeth reach the plane of occlusion and the junctional epithelium is on the enamel.
Stage 2, the epithelial attachment rests partly on the enamel and partly on the cementum apical to the CEJ. The base of the sulcus is on enamel.
Stage 3, the junctional epithelium lies totally on the cementum with the base of the sulcus at the CEJ
Stage 4, the epithelial attachment lies totally on the cementum, the base of the sulcus is on the cementum, and a portion of the root may be clinically exposed.
Altered passive eruption is the failure of the gingival tissue to migrate apically past stage 2 and expose the entire clinical crown and obtain a normal position of the base of the sulcus relative to the CEJ. It is estimated that this occurs in about 12% of the population.
Once the diagnosis is made, the next step is to look at the best way to treat if the patient is interested. This process always starts with looking at incisal edge position relative to the face. In next week's posts I will look at determining gingival position using tooth proportion and incisal edge, fabricating a snap on composite guide and correcting the gingival position.