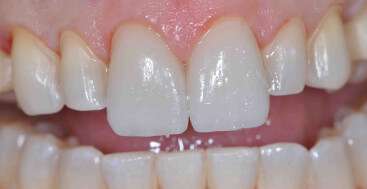 Trying in Anterior Veneers and confirming the fit, contacts and color can be challenging as they do not stay in place well. The use of try in paste is an important tool in overcoming the challenges. The try in is designed to verify that the color of the final restorations is acceptable. This final esthetic result is a blending of the color of the porcelain veneer and the underlying tooth structure as light passes through both and is reflected back. If you try the veneers in dry, light passes through the porcelain hits the air layer and then bounces back without entering the dentin layer. In this case we are not assessing the true final shade as the dentin color is not influencing what our eye sees. In order to know what the teeth will look like after cementation we have to connect the ceramic and the dentin so light passes through both. This can be accomplished with water under the veneer or try in paste.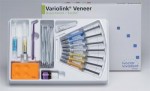 Using try in paste has a few advantages over plain water. The first is that most try in paste is tacky and helps to hold the veneers in place so we can also check the marginal integrity and contacts. This stickiness also is usually enough to hold the veneers in place so I can sit the patient up and let them look in a mirror and see what the final esthetics will be like. I find that when I use water the veneers slip off the preps as soon as I sit the patient up or they move their lips. Another advantage of try in paste is the ability to test drive lightning or darkening the final shade.
All light cured veneer cement systems give us a range of cements shades in addition to translucent. The cements are designed either to increase value and opaque the underlying dentin, which brightens or lightens the final shade or decrease value and add chroma to darken the final result. Each cement has a matching try in paste so we can see what the effect has on the final shade.