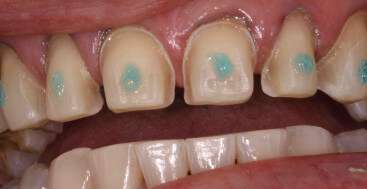 Veneers are a conservative way to offer patients exquisite esthetics. Keeping veneer provisionals in place is one of the challenges to achieving these results. It seems like either they are constantly coming off to the point that both I and my patients are frustrated. Alternatively if the patient comes in for the seat appointment and the veneer provisionals have been in place since the preparation I wonder how much work it will be to remove them. For years I searched fort a technique that would allow the provisionals to stay in reliably and come off easily for the seat appointment.
Several years ago I found a technique that achieves just those two goals. I have been using it ever since with great success. Before seating the provisionals air abrade the internal surface with 50 micron aluminum oxide. This will encourage the resin cement to attach to the bisacryl. With the provisionals ready to go, isolate the prepared teeth. Using phosphoric acid spot etch the labial surface of the teeth. You want this spot to be approximately 2-3mm in diameter. I place it midway on the labial surface between the mesial and distal and cervical and incisal of the prep. I leave the etchant in place for twenty-five seconds and then rinse thoroughly, followed by air drying. Next I paint flowable composite of the same shade as the bisacryl onto the air abraded surface of the provisional and seat against the preps.
Using a microbrush I clean off all of the excess flowable that has been expressed at the margins. Once I have adequately cleaned the uncured flowable we light cure all of the surfaces to fully cure the resin. Once cured I can use a scaler, #12 blade or other tools to check and clean the margins and remove the thin layers of cured excess. I have found this technique highly effective whether the are of the prep I am etching is predominantly enamel or dentin. When the patients return for their seat appointment I cut a slot into the facial of the bisacryl over each tooth without penetrating to the tooth surface. This allows me to place the blade of a plastic instrument into the slot and twist gently to separate the flowable. Once it has been freed from every prep the provisional can be removed. I utilize a friction grip brownie running at less slow speed to remove any flowable that remains over the small area where the tooth was etched.
You can substitute a self etching one step dentin adhesive for the phosphoric acid. KEEP the spot size the same 2-3mm and no larger.
You can substitute the resin of a fourth generation dentin adhesive for the flowable. DO NOT use the primer first.
You can substitute any light cure veneer cement for the flowable. DO NOT use a dentin adhesive.