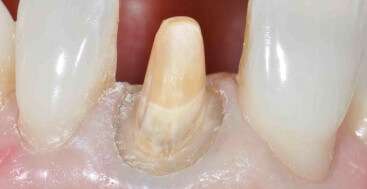 [/caption]
One of the greatest challenges when restoring an anterior tooth with an all porcelain restoration, is a localized area of discoloration. These bands of color create a phenomenon we call "show through", and although muted the localized color is still visible in the final restoration. Masking this area of color often has us prepare the tooth more aggressively, or alter our materials choices. These can be valid approaches, but are being dictated by an isolated area, where the rest of the preparation could be treated more conservatively. One approach to this challenge is a technique I call "prep within a prep".
Once the basics of the restoration are prepared, if I am left with a localized area of discoloration, instead of altering the entire prep, or accommodating this with a different material, I want to mask this area to match the rest of the prep. I do this by completing a very shallow prep over the discoloration, typically 1 to 1.5mm in depth, with margins that are out beyond the discoloration.
I then place a composite restoration in this internal prep. For this technique I use a seventh generation dentin adhesive that will etch, prime and bond in one step. Specifically I use Ibond SE from Heraeus. I then restore with a composite designed to opaque the underlying discoloration, but match the rest of the prep shade in value and chroma.
Once the restoration is cured I then complete my preparation. With fresh composite placed I need to remove the air inhibited layer from the dentin adhesive so that it does not alter the set of my impression material, and prevent adhesion of my bisacryl provisional if I will be fabricating it directly. I clean the prep with flour of pumice and rubbing alcohol prior to taking a final impression. When I am ready to fabricate the provisional I lightly coat the prep with petroleum jelly.