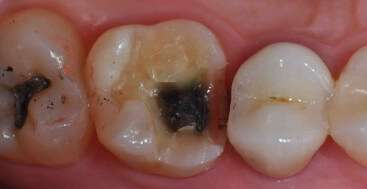 Last week at the ADA Annual Session I taught a hands on workshop about posterior tooth preparation. Both in the morning and afternoon sessions I was asked the age-old question, how do you decide when to save a cusp or cover it? The answer is ambiguous, much like how we decide as practitioners when to fill a carious lesion we see on a radiographic versus watch it. When we evaluate radiographic caries there are many lesions that all of us would agree need to be filled. Preparing posterior teeth is much like this, there are many clinical situations where full coverage is the correct choice without question. In this day of being conservative and saving tooth structure, it is the restorations that fall between a direct composite and a crown that cause us the most question.
So let's go back to the guidelines for a direct restoration. One of the primary criteria is that the prep is no more than 1/3 of the distance between the cusp tips. Once the width of the isthmus is larger we should start to consider alternative types of restorations. I have very often completed direct composites that are wider then this that were very successful, and that I attribute to looking at the rest of the factors. Are the cusps solidly supported by dentin? Cusps that are all enamel, undermined and do not have dentin support are much more likely to fail over time. In this case covering the remaining cusp is indicated. Next look for fractures and cracks. We want to cover any cusps that are at a risk of breaking off due to fracture. If the patient is experiencing symptoms of a cracked tooth we enter a whole different decision process.
So I am hoping that you have a picture in your head of a tooth with one cusp undermined by caries, only a small restoration through the isthmus on the remaining occlusal table, and no additional fractures, the perfect candidate for partial coverage. There are a few more factors I consider, one being the patients occlusal risk. I evaluate the patients joints, muscles and occlusion, and have to make a determination of the risk to the remaining cusps from function and whether we can minimize this risk through occlusal treatment. Our newer porcelain materials make the risk of restoration fracture low when the tooth is prepared appropriately. Making sure that we have adequate occlusal clearance and thickness of porcelain is another key. Retention form and wall height are a much smaller factor now that we use materials that can be bonded to the tooth following etching and application of a dentin adhesive, but your ability to isolate and achieve a superior bond needs to be considered.
Lastly, I factor in the patients age. As my patients are living longer and longer I have two new issues that have become part of my decision process. For my younger patients I think about how many times in their lifespan this restoration will need to be replaced. The more tooth structure I leave behind, the better their chances of having this tooth the rest of their lives. On the other hand, for my older patients I also have to consider what their medical condition will be and their ability to undergo dental work the next time the tooth needs treatment. In this patient population sometimes full coverage is the most conservative approach.
It really is only in the last 5-10 years that this decision has become an everyday event. We do have the materials and the techniques today that let us offer partial coverage, esthetic restorations with the same expected longevity as full coverage. Gaining comfort in doing these procedures comes from understanding the materials, the new preparation designs required for success and then trying it and watching the success.