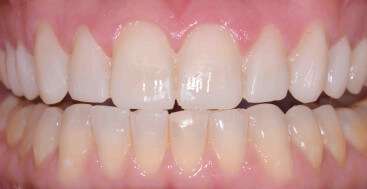 Fabricating provisionals for anterior veneers can be one of the most challenging of our clinical procedures. For some it is such a challenge that they hesitate to offer veneers to their patients. There are three methods of fabrication: indirect, direct and shrink-wrap. The indirect approach requires fabrication of a model of the preps on which the provisionals are made. The model does, however, allow the bisacryl to be trimmed on the model without the challenge of holding the fragile provisionals. Direct fabrication, forms the bisacryl on the preps in the mouth. This technique has both the challenge of timing the removal of the bisacryl and then trimming in your hands without breaking. Shrink wrap provisionals are formed directly on the teeth and then trimmed and polished int he mouth. The technique challenge is int he handling of the matrix and flash of bisacryl without damaging tissue or preparations.
The first step in excellent shrink-wrap provisionals is a very well-fitting silicone matrix. The matrix can be made in a pressure pot, relined with light body silicone or following the bead line technique. The adaptation of the matrix at the gingival is what results in little to no flash to trim, making this an easy and predictable technique.  Before seating the matrix you can use one of two ways to decontaminate the preps and help adhere the bisacryl tot he teeth. Approach one is to spot etch the preps in the mid-facial, rinse & dry and then apply Gluma. The second approach applies Gluma first, and then one coat of Optibond FL primer.  Next load the matrix with your favorite bisacryl and seat over the preps.  Allow the bisacryl to come to a full set and then remove the matrix.
Separate as much of the flash as possible with an explorer or other instrument. With a snug matrix you should have an easy time getting off this flash and have very little excess at the margins. I wipe the provisionals with a gauze that is moistened with rubbing alcohol to remove the air inhibited layer on the bisacryl. Next use a small tip fine diamond on half speed to smooth and refine the margins as well as opening the interproximal embrasures. After finalizing the occlusion and shape polish the provisionals as the final step.
There are several great advantages to this technique. When done well the provisionals are much less time consuming to fabricate with less risk and improved marginal adaptation. Shrink warp also results in provisionals that most often are still in place the day of delivery. Do not be surprised if you have to use a small carbide bur to slice the bisacryl and then twist off in pieces. I always try first to remove them by popping off, but there is no surprise if they have to be sectioned.