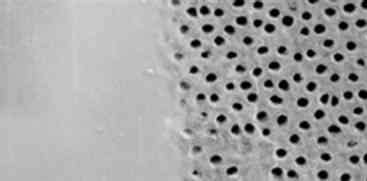 When I saw this search phrase in my site analytics it caught my eye, and made me wonder how many assistants, hygienists and even dentists aren't clear about the micro-mechanical process that has revolutionized dentistry. Without the ability to form a hybrid zone, create adequate bond strengths and prevent micro-leakage we would not be placing posterior composites, porcelain inlays and onlays and many other procedures that seem routine. Etching the dentin is the first step in creating a hybrid zone. The hybrid zone is a band of dentin that has been fully impregnated with polymerized resin. The final interface of tooth and restoration contains three zones, all resin ( the restoration), the hybrid zone which is a blend of resin and dentin, and then dentin.
We accomplish two goals by etching the dentin. First we remove the smear layer and debris present from tooth preparation. The dentinal tubules become clogged with cut tooth structure, saliva, red blood cells and other contaminates like oil from our hand piece. The etching process effectively removes all of this to expose open dentinal tubules which can be filled with  resin. Secondly, the etch demineralizes a layer of the dentin, exposing the collagen fibers, allowing the resin to penetrate into the dentin structure. We carefully manage the chemicals and timing during etching ( total etch or self etch) in order to effectively remove the smear layer, open the tubules and create an adequate demineralized zone that resin can infiltrate. Both under-etching and over-etching are detrimental to the success of the final restoration.
I am always very precise when doing adhesive procedures, aware of the sensitivity of the technique, and amazed by knowing there is a critical microscopic process occurring, even though it looks like simply rubbing a series of liquids on the tooth.