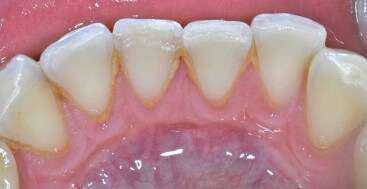 [/caption]
I had a new patient come in for an emergency appointment with a fractured lower incisor. This is probably the best example I have seen yet of someone shearing off tooth structure down the lingual of a lower anterior. The patient was of course confused at how it happened. He did wonder about biting his nails, and sheepishly admitted to doing that, with good reason as he can't play his guitar with nails. He wondered about possibly biting down on a fork many years ago, but really was reaching for some explanation.
I have heard different reasons for this type of fracture over the years. My intuition tells me it is a combination of different things, one being the patient's occlusion. If I search my memory I would feel comfortable claiming I have never seen this type of fracture without wear on the incisors. So one piece of the puzzle may be damage to the tooth from wear.
Another question that comes up for me is protrusive crossover; patients that can move their lower incisors over their upper and exert force toward the facial.
For this patient I restored the tooth with Venus Diamond composite from Heraeus, paying very close attention to his edge-to-edge occlusion and crossover positions. I asked his permission to adjust a few of the neighboring incisors to distribute the force on his edges as broadly as possible and create large flat contacts. I also paid close attention to the leading edge and trailing edge so that as he moves, the transitions are smooth and he doesn't catch.
He scheduled to come back in for an exam and cleaning, so I plan to complete a comprehensive evaluation to thoroughly diagnose his occlusion.
This post supported by Heraeus