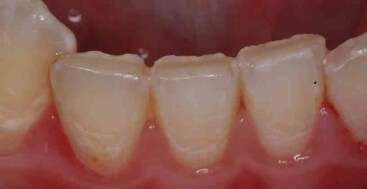 [/caption]
I ask the question "Is Wear Normal?" at almost every lecture I do on occlusion. Usually the response is a small number of mumbled replies. A good follow up question is " How many eighty-five year old patients have you seen with mammelons?" I hope your thinking not many, if any at all. So yes tooth wear of some amount is normal. A combination of attrition, erosion, and abrasion we all lose enamel over a lifetime. The more important question is when is the wear age appropriate and when is it advancing at a pathologic rate? We don't have the data to know how many millimeters of enamel lose is appropriate at every decade of life. In order to help with this answer in my office I play a mental game. With the picture of the patients current wear in mind and a knowledge of their age I imagine if the wear continues at the same rate at what age will their teeth be in jeopardy or need restorative dentistry to be saved?
If the answer to this question is anytime before the patient dies, I believe it is important that I help them understand the process and the options for protecting their teeth. We will help patients to quantify the amount of wear that is happening. One way we do this is taking a measurement from the CEJ to the incisal edge of several teeth with wear. We take the measurement on the mid-facial and record it on the patient's perio chart. At subsequent appointments we can now repeat these measurements and have clear data that the process is continuing. Another great way to document tooth wear is with photography. I find it difficult to impossible to remember from appointment to appointment. But with repeat photographs we can see the change over time.
This documentation is often a key piece in helping patients understand what is happening to their teeth and decide to take action to  slow the process. I do think wear is normal, and it can also be pathologic and deserve our attention.