Blunting or shortening of the roots of teeth that have been moved orthodontically is commonly seen. In reviewing the orthodontic literature I learned that there is a distinction between mild root resorption and significant. If we look at any loss of root length using radiographs the number of cases where it presents is very high, estimated in some studies to be upwards of 70%. However this loss of a fraction of a millimeter of root length is not clinically impactful and often not noted on radiographs unless measurements are taken. Significant root resorption, which has clinical implications of mobility and potential premature loss of the tooth, is much less common. Studies show varying frequencies from 4-18%, depending on factors like pre-op root shape, the orthodontic mechanics used, presence of congenitally missing teeth, extraction etc.
Over the years, I have treated numerous patients with "significant" root resorption and have always found managing the occlusal forces to be a critical factor. Mobility is one of the classic findings on incisors with significant resorption, and can be very concerning to the patient as well as the dental team. One of the first things I want to do when this situation presents is an occlusal analysis. The existing functional occlusion needs to be understood in intercuspal position, end to end and excursive movements to assess the force on the mobile teeth. The next question is how you might alter the functional occlusion to reduce the forces. If I believe I can improve the mobility through altering the patients occlusion I will test this with an appliance. Based on positive results we can then make those same occlusal changes to the teeth.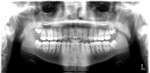 One of the ways I work together with the orthodontist is to diagnose root resorption and the need to manage the occlusion prior to the removal of the brackets. I have been truly amazed with the resolution of mobility and the longevity of incisors with very severe root resorption once the forces are exquisitely controlled.