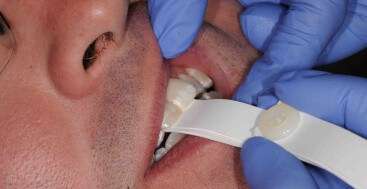 One of the goals of an occlusal appliance can be to release the Lateral Pterygoid muscles, seat the condyles in Centric relation and establish intercuspal position at this point. Over the years I have varied my technique for reaching this goal. One approach is to use bimanual guidance ( bilateral manipulation) each time you mark the posterior occlusion until you have achieved multiple stable stops. At this point most patients can close on their own repeatedly into this position to allow completion of the adjustment. Another approach is to adjust the appliance overtime, getting stable stops and allowing the appliance itself to release the muscles. This method requires seeing the patient at short intervals so that each time they develop a new posterior interference you readjust giving them multiple stable stops.
Recently I started using a leaf gauge to adjust the posterior stops at the appliance delivery appointment, and I find it efficient and effective. Once the appliance has been fit adjusted so it seats comfortably and is retentive I begin establishing the posterior stops. I choose a random amount of leaves in the device, place it
between the patients front teeth and ask them to "slide forward, back and lightly squeeze". Then I ask them if they feel anything touching in the back. I keep removing leaves until they feel the first posterior tooth contact, each time with the same instructions. At this point my assistant holds the miller forceps with articulating ribbon in place and we begin to adjust. Each time we mark I place the leaf gauge between the appliance and their centrals and ask them "slide forward, back and lightly squeeze". I adjust the marks until there are none, then remove a leaf and follow the same process. Once I am down to only one leaf I remove it and now have the patient close on their own to refine the occlusion before beginning the excursions.
My experience with this procedure is that it is easier on me, the patient and my assistant then trying to guide the patient every time we mark the occlusion. I have also found that I am getting far more predictability. As I see my patients back for adjustments I have very minor if any changes to make to the intercuspal contacts. This allows the process to move forward and the patient and I can work more closely on fine adjustments. I have also found that I am seeing faster resolution of muscle and joint symptoms since I implemented this technique.
Adjusting the intercuspal contacts with this method works on both Tanner style and flat plane appliances. There are some patients where it is more appropriate clinically to slowly adjust the appliance back into centric relation. Other than this exception I have followed this protocol and loving both the technique and the results.