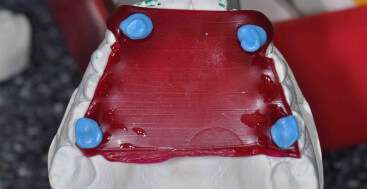 There are a variety of ways I capture bite records for diagnostic models that will be mounted in a seated condylar position. One way to capture these records is with bite registration silicone and either a leaf gauge or a lucia jig. These techniques are fantastic for patients where we need to release muscles or who tighten their muscles as a response to our procedures. One challenge they pose is trimming the records and mounting them to get an accurate representation. Another is that some patients will posture forward during the record. Having multiple techniques in your arsenal will allow you to use the one that is most appropriate and will yield the most accurate results for each individual patient.
Another way I capture these records is with a wax platform, a technique I learned as a student at the Pankey Institute. It works easily for patients who present with relaxed musculature or have been wearing an occlusal appliance that was adjusted to a seated condylar position. It is an accurate record for capturing seated condylar position and easy to mount with high accuracy.
In the case of patients with an appliance I ask that they wear the appliance to sleep in, the morning of the appointment take it out to brush and eat breakfast and wear it into the office. I take the appliance out to take the bite record. We make wax platforms from Schuyler wax, which comes in sheets like baseplate, but is stickier. Heat the sheet at the midpoint and cut in half. Next heat each half at the midline and fold to double thickness. Next cut the sides to create a trapezoid.
Heat one surface of the wax on the sides only and then seat over the maxillary teeth with the front of the platform at the contact between the laterals and canines.
Cut the platform around the canines and through the central groove of the posterior teeth.
Warm sides again.
Seat over maxillary teeth and have patient close until lower cusps are embedded in the wax.
Cool wax with teeth still in occlusion with air spray.
Place two drops of blue Delar wax over the impression of the lower canines in the platform.
Seat platform over teeth and guide patient until lower canines are touching Delar Wax ( other teeth should be out of occlusion).
Cool Delar Wax
Place Delar wax dots over cusp tips of second molars.
Seat Platform and guide patient into now set anterior stops.
Cool posterior Delar wax.
Store record in cool water until ready to mount the lower model.