With the month of April coming to an end, dentists everywhere are wading through stacks of reports. Many of these reports are printed out of habit and never read, stacked in a cabinet for someone else to throw away. A question to ask your self is what reports do you want, or better yet need? Answering this question starts with understanding what the key barometers are of your practices success. Commonly we track numbers like total production or total collections.These are great numbers, but in and of themselves only help us see a correlation to our bank account. One number I want to track is collection percentage. We work so hard to drive production, it's important that it actually translate into collections. When the percentage of collections is dropping we can immediately address the possible causes that range from poor financial arrangements on the front end to ineffective account management on the back end.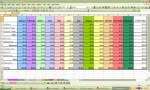 You may also be tracking new patients per month. Keep in mind that seeing new patients is a result of attracting new people to call the office. When a new patient phone call occurs it is the successful conversion of that lead to an appointment, and then the fulfillment of that appointment that creates the opportunity. You may want to track the entire system including number of calls, number of appointments scheduled, and number of new patient appointments completed. I talk to many offices that spend significant dollars on marketing to create phone calls, and never realize they lose a large number that never schedule.
Production numbers are a valuable tool in evaluating success current and future. I like to track production individually by provider so we can each evaluate our effectiveness. In addition we keep track of the treatment plans presented and what patients schedule for. Whatever you decide to track, only print reports that reflect the needed information. I have a spreadsheet and I take the data we track off the  different reports and enter it by month. This way I can track the data over time easily and see it all in one place. I think of it as knowing the vital signs of my practice from which I can assess health or illness.