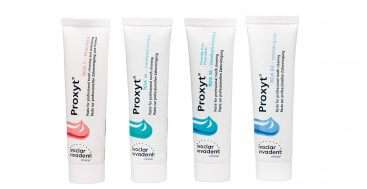 As a follow-up to the recent post on the abrasiveness of toothpaste, I thought we would look at prophy paste. Prophy paste, even the fine is generally more abrasive then over the counter toothpastes. In addition it is applied using a prophy cup going at 20,000 rpm's with much more pressure. Even though the incidence is much less frequent being 2 to 4 times per year instead of every day, this can still be a significant issue.
A cool little experiment is to take some microscope slides and using your fingers rub prophy paste around on them and then rinse at look at the slide with light behind him. You'll be surprised at this one application the slide will be scratched. This is the same thing that will happen to ceramic restorations, and very easily the glaze is scratched and the surface of the crown or veneer has begun to deteriorate.
Similarly, abrasive prophy paste will increase a patient's sensitivity if used on exposed roots, accelerate the wear on exposed dentin or cementum and can damage other restorative materials. The RDA (relative dentin abrasiveness) of prophy paste can range from 150 for fine to up over 300 for coarse. Alternatives are to use products like Cinpro 5000 or MI Paste as a prophy product, both of which are low in abrasiveness. In my office we use a product called Proxyt, from Ivoclar. It is a non-abrasive prophy product and is available in 3 grits and with and without fluoride. All three of the varieties have RDA's between 7-83 and are safe to use on dentin, cementum and ceramic.