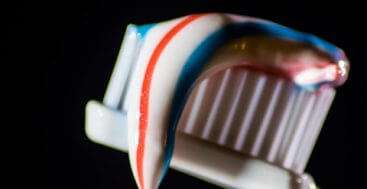 I'll admit that the abrasiveness of over the counter toothpastes has not been something I have always thought about. The increasing use of monolithic ceramic restorations that get their esthetics from stain and glaze has brought this concern tot he forefront. The abrasiveness, measured most commonly as the RDA, relative dentin abrasiveness, is also an important factor in the health and durability of natural tooth structure.
Both dentin and enamel can be worn down at a more then normal pace when exposed to very abrasive toothpastes. We have learned that this damage is not being caused by the toothbrush, but the material being put on the toothbrush. As the desire to have whiter and whiter teeth has become popular, manufacturers have increased the abrasiveness of toothpaste to more effectively remove the external stains. In addition, tarter control and other newer versions of toothpaste designed to grab market share of consumers can also tend to be more abrasive.
Ideally we would like to be brushing with a material that has an RDA of less than 80, but the FDA allows toothpaste to be sold with an RDA up to 200. The original Colgate toothpaste has an RDA int he 70's. Most Sensodyne have RDA's below 85, but several of the 2 & 1 tarter control and whitening have an RDA close to the maximum of 200. The abrasiveness can damage restorations, increase wear of exposed dentin and exacerbate sensitivity. We keep a list of the most common toothpastes in our office with their RDA, so we can discuss this with our patients.
There is a great video on this on Restorative Nation for more information.