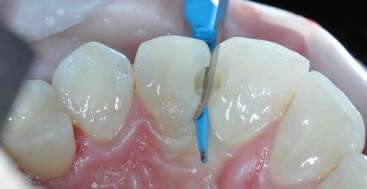 Placing an exquisite composite restoration on an anterior tooth involves managing lots of moving parts. My focus is creating an incredible final result where the color is such that the restoration disappears into the tooth, and the interproximal contour is so smooth that even a hygienist with loupes and floss can't find anything to criticize. The challenge that I run into is a matrix system that actually meets my needs. I have tried many of the different mylar strip systems, and there have been many advances in this arena, resulting in great choices.
For a matrix band to work effectively, and not result in the operator having a lot of contouring and correction to handle with a bur it needs to meet a few criteria, I became acquainted again with these criteria when preparing for a program and going back to a well-known text on operative dentistry.
Recreate the natural shape of the proximal tooth surface and contact.
Seal the proximal and gingival walls.
Overcome the thickness of the bands.
One of the most powerful things I have ever done is learn to stop myself after the matrix is in place, and evaluate whether it meets these criteria, before I begin placement. Often I realize I need to alter the position of the matrix, or make some changes, and taking the few seconds to do this and optimize the matrix sis a lifesaver, because making it work with a bur is very challenging.
For anterior teeth to satisfy the first criteria the band has to go to the base of the interproximal sulcus so that the natural emergence profile is created. I also find that pre-wedging, which places the band below the naturally occurring interproximal contact helps preserve the dimension, versus wedging after the preparations are complete and the contact being moved incisally. Meeting the last two criteria int he anterior is accomplished through adequate approximation of the band and wedging  and tooth separation. Again I find pre-wedging and then replacing with a larger size wedge during placement of the restoration creates tight interproximal contacts.
Even with all the new choices, often I go back to a simple, tried and true technique. I take an old-fashioned toffelmire band, cut it so I have only a portion of one end. I place the band vertically with the rounded end into the sulcus until it hits the attachment, I then place my wedge to separate the teeth, overcome the thickness of the band, and create the shape of the interproximal papilla. Lastly I check the seal with an explorer and burnish the band.