In yesterday's post I looked at the thought process of using a screw retained versus a cement retained implant crown. If the choice is made to utilize a cement retained implant crown the next question is what kind of cement will you use. Many practitioners are devoted to the concept of only using provisional cements in these situations. Many others are very comfortable utilizing a permanent cement for implant crowns. So why do one or the other. the primary reason behind using a provisional cement is the ability to retrieve the crown and be able to access the abutment and screw. On the other side of the equation is using a permanent cement whose advantage is retention. Retention and retrievability are on opposite sides of the equation, and when you increase one you decrease the other.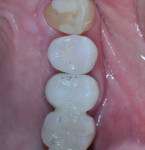 Crown retention is impacted by additional factors such as height of the opposing walls of the abutment, abutment taper and spacer between the abutment and the crown. If your preference is to use a temporary cement, one way to increase retention is to work with your lab to maximize the mechanical retention of the abutment design. Esthetics can also be a factor and certain clinical situations will call for a translucent cement whether temporary or permanent. One factor is the ease with which the cement can be cleaned as excess cement left behind is a key factor in periimplantitis.
In a recent study of over 60 US dental schools, resin modified glass ionomer was found to be the most commonly used and taught cement for implant crown cementation. So what cement should we use? I'd like to sue the least retentive cement that keeps the implant crown in and does not necessitate frequent visits to recement. If I have any concerns I will start with a temporary cement. In these cases if the crown comes loose I will adjust to a slightly more retentive cement. In situations where I am not concerned about gingival health, occlusal issues or needing access to the abutment I routinely use a translucent SESP resin cement.