Diagnosing a cracked tooth can be one of the most challenging things we do in dentistry. The symptoms are often vague and differ from patient to patient. External examination is difficult at best, as some teeth appear to have no cracks with obvious symptoms, while other teeth have dark visually alarming lines and yet the patient reports no issues. One of the ways in which we can attempt to determine if a tooth is cracked is with transillumination. Transillumination by definition is simple passing a strong beam of light through a sample and using the pattern of light transmission for diagnosis.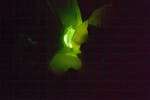 For cracked teeth we want to apply a strong light source to the tooth so that the light is traveling perpendicular to the plane of the suspected crack. In most instances this means we apply the light source to the labial or lingual tooth surfaces. In a tooth that is not cracked the light will travel uninterrupted from the buccal surface to the lingual, which can be observed on the occlusal table of the tooth by its uniform illumination. When a tooth is cracked the light hits the crack and is dispersed, therefore it does not cross over and illuminate the side of the tooth beyond the crack.
There are many commercially available tools for transillumination. You can also use the fiberoptic in your high-speed handpiece. Without a bur in place position the head of the handpiece on the tooth surface and press to rheostat so the light comes on. Curing lights can also be used for crack detection. If you have a tack curing tip with a small diameter it works very well, but the routine curing light tips work as well. One of the things we try and do if we utilize transillumination and observe a crack is to document this with a digital or intraoral camera as part of the patient's permanent record.