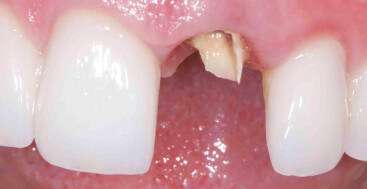 The restorability and longevity of anterior restorations on teeth with endodontic treatment and post & cores depends on ferrule. So what is ferrule? Ferrule is the amount of tooth structure on the buccal and lingual walls of the prep. Tooth structure on the mesial and distal do not count, as anterior teeth are not loaded toward the interproximals. Ferrule is both the height of the natural tooth from the margin, but also the thickness of the tooth structure from the external wall of the prep to the internal wall opposing the post space.
There have been many studies on the amount of ferrule to create a predictable survival of the restoration. If you bond the post and core and bond the crown, the minimum amount of ferrule is 1.5-2mm. If either part of the system, the post & core or the crown are cemented it increases the amount of ferrule we need to 2-3mm. These are minimal numbers and do not guarantee any specific number of years of survival. Longevity will be a factor of functional risk and repetitive load.
It is important to make sure patients understand when we are being heroic and the predictability of the dental procedure is low and the risks are high. As tough as it is to sit with a patient and tell them they will lose a front tooth, it is ten times harder to sit with them when the restorative fails prematurely based on their expectations. Many patients will chose to save a tooth with a poor or fair prognosis and restore it again or chose an alternate treatment in a short time frame. Others will want to proceed with treatment that has a higher chance of longevity. The amount of ferrule is a key component in determining the future of an anterior tooth treated with endo, post & core and crown.