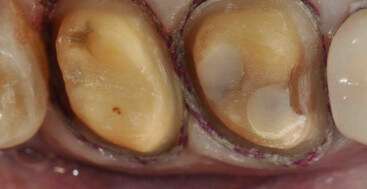 Three times this week I have referred patients to the endodontist I work with for root canal treatment following restorative procedures. Two of the patients recently had a permanent crown cemented; fortunately I had not done either. The third patient was in a provisional onlay, and yes this tooth I had prepared. A valid and important question to ask is how often does this happen? Another question I have is are there things I can be doing to minimize this risk? Lastly, how do we prepare our patients for the possibility of needing a root canal?
After doing a little research I found that the incidence of pulpal necrosis requiring root canal therapy following a full crown preparation is around 13%. This number increases to over 17% when the tooth has a core buildup in addition to the crown. The risk for teeth that have been prepared for anterior veneers is lower at approximately 5%. Pulpal injury and infection are caused by a combination of factors, the most prevalent of these are bacterial contamination and trauma.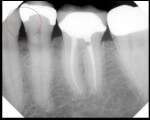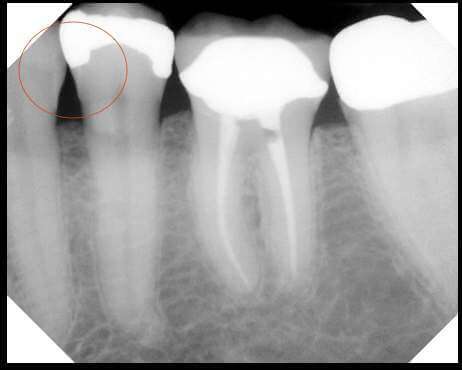 Reducing the incidence of endodontic complications begins with minimizing bacterial contamination. Isolation with a rubber dam, although not a popular technique, is an effective way to limit bacterial exposure to the teeth being prepared. Additionally you can use antibacterial agents such as Gluma and Chlorhexidine once the tooth has been prepared, or incorporate immediate dentin sealing when placing indirect restorations. It is also critical to minimize the trauma to the pulp during restorative procedures. Doing this means cutting with fresh sharp burs so you can reduce the pressure during preparation, cutting under a coolant water spray and avoiding periodontal ligament injections with anesthetics that contain epinephrine. Other factors like acid etching, dessication and traumatic occlusion can be contributing factors when present, in addition each patient's pulp has a different ability to recover.
Given all of this how do we inform our patients about the possibility of a tooth needing a root canal after we complete a restorative procedure. There is no "right" answer to this question, and it is as variable as the dentist and patient combination. I lean toward the conservative side and want to make sure patients have an awareness of the risks so we can set expectations that will match our outcomes. I use the statistics and let patients know that the risk of a tooth needing a root canal after a restorative procedure is in the range of 5-13%, and share with them the list of conditions that put a tooth at risk. I also stress the way we attempt to reduce the risk by following steps during the procedure.