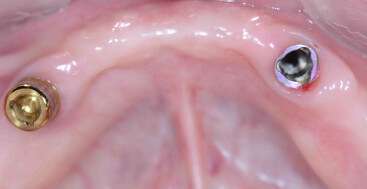 Often implant reconstruction is approached as an all or nothing proposition. The challenge with this approach is implant dentistry is costly and for many patients their financial constraints result in a compromised treatment plan. One example of this is a lower edentulous arch and the significant difference between a lower denture with two implants and locators versus five implants with a fixed restoration.  The other side of this coin is that very often patients who have had two implants and wear a lower denture with locators are unhappy with their level of function and esthetics. If now their financial situation allows for a transition to a fixed restoration the unknown is whether the clinical situation makes this transition possible.
One of the things I factor in when working with a patient to put together a treatment plan is to make sure the treatment we embark on today will not prevent them from choosing an alternate treatment in the future that would create superior esthetics, function or health. When placing implants we apply this by planning for two major factors, one is the position of fixtures to allow for additional fixtures to be added with proper spacing and the other is to ensure adequate vertical room for a fixed restoration.
When planning for fixture placement a fixed restoration would ideally have five fixtures between the mental foramina. If today the patient is opting for a removable alternative with two implants, I work with the surgeon to plan the ideal placement of five implants and then we use the 2 and 4 spots to place the current fixtures with locators. This planning allows the future placement of three more implants with ideal spacing. Depending on your preference for location of locators you can also use the 1 and 5 locations, still allowing the ideal placement of 5 total fixtures if the patient decides to proceed in the future. Unfortunately I am often confronted with a patient with two fixtures between the mental foramina that are situated in a way that compromises the space to add enough additional implants to transition to a fixed restoration. Additionally the position of the lower ridge is a critical factor in creating adequate space for the thickness of a fixed restoration and needs to be managed when the first two fixtures are placed, so that lack of vertical room isn't a barrier in the future.