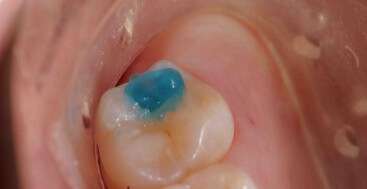 Post Operative sensitivity can be both a normal and abnormal sequela of placing a posterior composite. I make sure my patients are expecting some temperature sensitivity, and even tell them to be cautious the first time the have a cold drink after the anesthetic wears off. Beyond the mild pulpitis that can be induced during the preparation and placement of a posterior composite is the sensitivity that lingers. When I speak with dentists who have a question about sensitivity, the first thing I ask them to do is recount heir adhesive technique with me. The reason is that almost all lingering issues can be tagged on a piece of the adhesive process.
Number one on the list for causing sensitivity is over etching the dentin when using a total etch technique. Dentin should be exposed to phosphoric acid for no longer than 15 seconds, and recently I have been hearing ten seconds. Second on the list with a total etch technique is over drying the dentin after rinsing the etch. This is a tricky step, but we need to remove the pooled water, but leave the dentin moist enough that the tubules do not collapse and the primer can be carried into the tubules as it chases the water. The last issue with self etching products is ineffective use of the primer. Make sure you know the instructions regarding length of time to agitate and number of coats. With self etching products one of the classic issues is inadequate etching during the first step. The etch/primer requires a time interval of scrubbing it against the dentin to activate the etching component.
Beyond the dentin adhesive, I look at the placement technique for the increments of composite and the shrinkage stress of the material. Placing too large an increment and using a material with higher shrinkage stress can cause failure of the hybrid zone and post op sensitivity. So if you are experiencing more sensitivity than you would like go back and step by step review your technique.