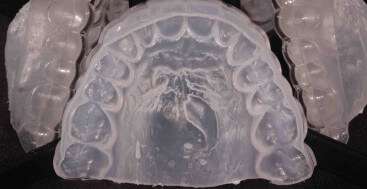 [/caption]
Copyplast is a popular material for fabricating a provisional matrix. The material comes in multiple thicknesses from Great Lakes Orthodontics and is available for both the Biostar/Ministar and a vacuum form machine. The unique surface of copyplast captures the detail off a model of a wax-up for provisionals, but does not stick tot he bisacryl. It can be removed during the initial set phase of the Bisacryl, or allowed to reach a firm set if you are following a shrink wrap Technique. Unlike Biocryl, Copyplast is bendable so it can beflexed buccal and lingual and removed from the provisional easily.
This flexibility is both what makes it fabulous to fabricate temporaries, and is it's downfall. The flexibility allows you to separate the temporary from the matrix without breaking it. This same flexibility accounts for bending of the matrix when you seat it, and flaring at the ginigval margins which creates an inaccurate copy from the wax-up. This flexing results in a large amount of trimming and can result in having to make another shell from Bisacryl. An advantage of Copyplast is that we can see through it. Therefore you can "see" where you are seating it, and use it as a reduction matrix in addition to provisional fabrication.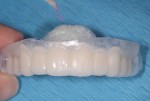 For years I struggled with the flexibility, even abandoning this technique until a friend here in Phoenix taught me how to make a rigid carrier for the copyplast. Fabricate your copyplast and trim it on a model of the wax-up. Next with the copyplast matrix on the model create a 1mm Biocryl shell. Remove from the machine and separate the biocryl and the copyplast. Trim the biocryl above the incisal to the gingival margins on lingual and buccal. You now have a rigid carrier for the copyplast that prevents flex or bending. Once the Bisacryl is set first remove the outer Biocryl and you are ready to go.