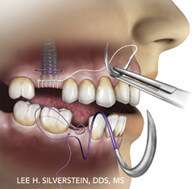 I have been on a journey recently to improve my surgical skills and knowledge, and to this end I have been taking CE courses focused on surgery and doing a lot of reading. Dr. Lee Silverstein is a periodontist in Atlanta, GA who I have had the pleasure of meeting at a Hinman Dental Meeting. His book " The Suture Book" and articles on suturing technique are well worth getting and reading for anyone who performs surgery whether you are a GP or a specialist.  In my case surgery is something I set aside more than a decade ago and I am now looking to learn more about this and add back some basic surgical procedures to my practice. With this in mind I needed to begin at the beginning and suturing was one of the topics I set out to learn again. It is amazing how some principles of surgery have remained exactly the same as what I learned in school, and many are so radically different that I feel like I was in school in the dark ages,
With everything I love lists and straight forward approaches, and Dr. Silverstein's "Rule of Three's" for suturing is just what I needed.
Needle Penetration is 3mm from the flap margins
Place the thread 3mm from any adjacent suture.
Always tie with 3 throws. ( First is a double surgeon's knot, and number 2 & 3 are singles).
Leave 3mm of thread from the knot when cutting off.