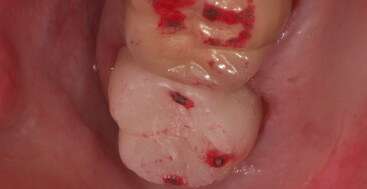 The most viewed post of 2011 was "The Patient's Crown or Temp is Out After Hours" from November 23. The news is out now on how to help patient's recement their own crown or temporary after hours. This post looked at a technique I learned during a weekend study club meeting in Asheville, NC. I have been a member of this small group for over five years, and one of the best things is sharing with one another the things we do to elevate the level of patient care we provide, and have dentistry be profitable and fulfilling. At the last meeting one of the ideas that came up was my dear friend and our facilitator, Dr. Buzz Raymond, from Golden Valley, MN. He shared with us that he has his patients recement their own restorations with Elmer's glue. When I first heard it it sounded way too simple to possibly work. I came home and tried it for a few weeks before publishing the post. Like all of us I get patient calls after hours when folks have a crown or temp out. It worked so well I wrote the post to share this gem with everyone else.
Since that time I have continued to utilize this technique with great success. I can now tell you that it works equally well on all porcelain restorations made from E-max, both full coverage and onlays. I have not used it for all porcelain, pressed or stacked ceramic restorations. Fortunately thanks to a true "bonding" protocol I don;t have these come out, and I would be concerned that the glass is to fragile to be in the mouth when it is not bonded to use this. I have also shared this technique with my entire team, and we are telling our patients how to recement their temps on the day we do the prep. Since than I have had several patient's come in for their seat appointments, temp in place thanks to Elmer's and we didn't even know it had come loose.
I have heard from many of you who have tried this, how well it works and how great it is to have a technique to manage this situation. If you haven't tried it yet, I strongly suggest it.
To read the entire original post: https://leeannbrady.com/restorative-dentistry/the-patients-crown-or-temp-is-out-after-hours
12/31/11
A question came in over e-mail about the toxicity or safety of using Elmer's. To answer this I did pull all of the MSDS sheets for "Elmer's School Glue" prior to writing the original post. It has been rated as totally "Non-Toxic" in all the categories evaluated, including orally. This is an off label use of the product and up to your discretion.