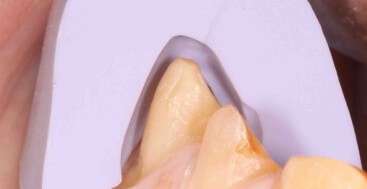 One of the challenges in restorative dentistry is ensuring adequate reduction for the technician to create an exquisite result, while remaining conservative in our preparation and not taking away more tooth structure then necessary. Accurate tooth preparation begins with utilizing the correct burs, knowing their dimensions, and creating depth cuts. Prior to taking final impressions in order to guarantee the correct reduction and avoid a call from the lab that necessitates bringing the patient back in, or compromising on the lab fabrication, reduction matrices are utilized for verification.
This video demonstrates the fabrication and use of a lateral full contour reduction matrix made from Flexitime Easy Putty.
Steps In fabrication:
Fabricate a full arch silicone matrix.
Cut the matrix in half at the midline with a #15 blade.
Section each side midway between mesial and distal of the central from the labial to the lingual.
Use in the mouth to verify reduction on the centrals after preparation is complete.
Modify prep as necessary.
Section the matrix between mesial and distal of the lateral incisor.
Return to mouth and verify reduction.
Continue to alter matrix moving posterior as necessary.