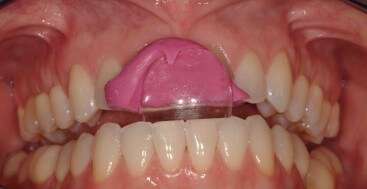 Last week I had an 18 year old female patient come in on an emergency visit. She was clear that she had a toothache on the lower left side, pulling back her cheek and pointing to her lower second molar. The discomfort had started several days ago, and been getting progressively worse. It seemed to be at it's worse int he middle of the night when it woke her up from sleep. It was a dull pain, no throbbing, and could be controlled with OTC pain medication, but then came right back. Her medical history was non-contributory and her dental history included ortho 5 years prior, for which she was still wearing her retainers at night, cleanings and one or two fillings.
The clinical exam added no information to help me, as the lower left second molar tooth had an occlusal composite, but the margins appeared sealed and in good condition. On to the radiographs, we took one periapical and two bitewings, all of which was as normal as they can be. I did however see that her third molar was against the roots of that lower second molar, so we decided to take a Panorex. Mom was sure we had figured it out," Your brother had this same thing happen at this age and it was his wisdom teeth". Sure enough the panorex revealed four erupting third molars, and the one on the lower left was laying in a horizontal orientation,  erupting right into the roots of the lower second molar. It would have been easy to reach for the referral slip and send her on her way to the oral surgeon, but something wasn't quite adding up for me.
I asked permission and began doing a muscle palpation. She didn't respond to much, but we did find one spot in her left masseter that was very sore when I palpated it. Pressing on it did not change her pain levels at the tooth, but she didn't want me to continue to do the palpation. I explained to them that her pain could be referred and feel like it was over the tooth, but actually becoming from inside this muscle, and they looked skeptical. "What about her wisdom teeth?" mom asked. No question the four third molars needed to be extracted, and could be causing her discomfort, but I'd like to be able to connect the pain to a definitive source. She hadn't taken any pain medication that morning knowing she was coming to her appointment, and the tooth pain was present at the moment. I asked them if we could try something that could answer the question of was it her muscle or the wisdom teeth.
I had my assistant get me a lucia jig, some VPS tray adhesive and bite registration silicone. I fabricated an anterior deprogrammer for her, told her how to work with it in her mouth, and gave it fifteen minutes. Sure enough as I walked back into the room and asked how she was doing, she said "the pain is gone".  After helping them understand how the device worked, we took an upper alginate and I fabricated an anterior bite plane appliance. I have seen her twice since and she is doing great, the pain is gone, and she knows she does have to schedule with the oral surgeon when her schedule allows.
I use lucia jigs as diagnostic tools almost everyday in my practice, and like in this situation, often they help me differentiate when tooth pain isn't really tooth pain.