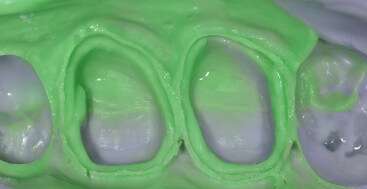 [/caption]
Accurate impressions are a critical ingredient in our ability to deliver quality restorations to our patients. They are also the one thing that laboratory technicians agree dentists need to do better. An accurate well taken impression has many qualities, but a key ingredient is obtaining adequate margin flash. Flash is the amount of the impression material that captures the tooth beyond the preparation margin. This "extra" material that has gone past the margin is vital to the technician as they fabricate the final restoration. The first question is how much flash do we need to deem an impression accurate. My minimum is 1mm deep by 1mm wide, so the impression material has captured 1mm of tooth structure beyond the margin, and this band of material is 1mm in thickness.
The thickness of the band of flash is critical, and highly dependent on the effectiveness of the tissue retraction when teeth have been prepared subgingivally. Without adequate thickness, the impression material is prone to tearing, so can separate at the margin when we remove the impression from the mouth. If it tears then when the model is poured stone will pass through and create a connection between the die and the surrounding tissue impression. This leads us to the other reason that having a 1mm of thickness is critical, as it creates enough of a space between the tooth and the surrounding stone version of the tissue that the technician has room to trim.
The 1mm dimension beyond the margin offers us several keys to success. Again this distance means you have also captured the margin clearly, as long as we don't have a bubble or pull on the margin. The 1mm captures enough of the unprepared contour that the technician has a reference to follow to create emergence profile for the restoration, which ensures gingival health. Lastly, that 1mm makes the accuracy of trimming the die much higher as the bur will not hit the margin accidentally.
Predictably capturing adequate flash in your impressions is dependent on tissue management and retraction, more than on the material you use. the first thing I do when I pull an impression is to look at it and critically evaluate it through my loupes, ready to take another if I have any concerns.