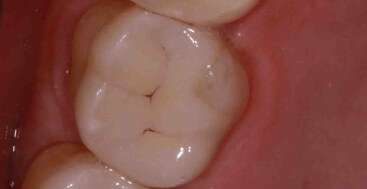 Despite the strength of e.max lithium disilicate ceramic from Ivoclar and the fact that they do not fracture, they can still get recurrent caries, suffer from open margins or need to be replaced for other reasons. The exact thing that we love about e.max, its strength, is a challenge when one has to be removed. I have learned several great tips for when I do find myself in the position of having to remove something made of e.max.
First, although it sounds counter intuitive, use fine diamonds instead of coarse. When you try to cut e.max with a coarse diamond, the diamonds get stripped off of the shank of the bur and you find yourself very quickly cutting with a shiny stainless steel shank, making no progress at all. Fine diamonds will last through the process and cut more efficiently. With the fine diamond make a slit up the crown from buccal to lingual all the way through to the cement layer. Next place a slit from mesial to distal to the cement layer as well. If you placed the original crown and know what it is cemented with the next step will be easier.
If the restoration was cemented with traditional cement, place a crown remover or plastic instrument in the slits and twist gently. The pieces should begin to come off under gentle pressure, do not force.  If they do not separate at the cement layer, begin to make more slices and smaller pieces. If the crown was placed with an adhesive process and truly bonded in place you can try to make multiple small pieces and twist, but this doesn't work that often. When I have to remove a bonded restoration I use multiple fine diamonds and prep away the e.max and the cement until I am back to a fresh prep.  This removal process is one reason to consider traditional cementation when using e.max on a prep that has retention and resistance form and does not require bonding.